South Africa Safari - 2014

The longstanding wish (of Marijke upfront) to visit South Africa became reality at last in March 2014. When we were kindly quized by our visiting dear friends John and Ghislaine what next exciting holiday destination was high(est) on our list. South Africa came readily out of the hat. Over a glass of (non-South African) wine our joint plan was born to go there, the four of us. Travel itineraries got explored and good past experience (Tanzania, 2005) made us call again on Natural High Safaris (Dorset, UK) to pull it all together for us.
We had earlier read about 'The Blue Train' that runs between Pretoria and Cape Town. We definitely fancied riding that one and scenic Cape Town seemed a perfect first destination and starting point for a self-drive 2+ weeks journey. Wine, appealing to all four of us, became a red (& white) thread for further itinerary plans in the Western and Eastern Cape areas. Nature and wildlife being the obvious other desired itinerary ingredients. Selected accomodations were, without exception, most comfortable and set in charming surroundings.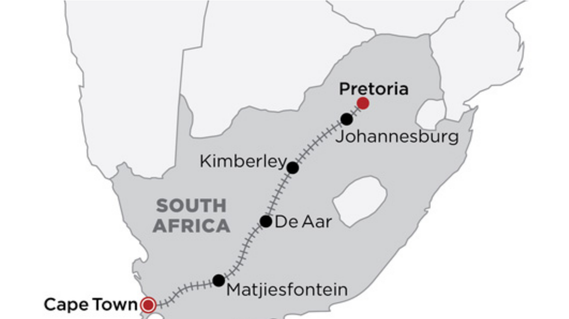 The Blue Train

The Pretoria to Cape Town train ride is a 1600 km 31 hour journey with a stopover at Kimberley for a guided tour at the Open Mine museum. A great way to have swaths of South African's varied landscapes glide by while in splendid comfort and relaxation. Night's shallow rest rode on the train's rolling rhythm, now and then shaken-and-awoken by the track switches 'calling out'.

Kimberley's world's most famous diamond mine opened in 1871 and closed in 1914. The present day 'Big Hole' that remains is a 1.6 kilometres perimeter and 214 meters deepwater-filled 'crater'. Dug entirely ......by hand!

After a 3 days stay in Cape Town we headed inland for Stellenbosch, Franschhoek and lovely Babylonstoren farm hotel. Then on and back to the coast to the 'Grootbos' nature reserve with its pristine milkwood forest and fynbos vegetations. Onward Northeast to Swellendam's very elegant Schoone Oordt Country House. Next, with yet another zig-zag back to the coast again to Knysna's Phantom Forest Eco-Reserve. A 147 ha nature reserve of Afromontane Forest, Cape coastal Fynbos and estuarine wetland. Finally heading further East and topping the journey was a four day stay at the Kwandwe Game Reserve (Great Fish River Lodge).
A wonderful journey full of joy and dear friendship in welcoming hospitable Cape surroundings and atmospheres.
Privacy note: Photos of safari participants are grouped in gallery 'Safari Group' (password restricted)