Anna's Hummingbird
Calypte anna
One can't resist being fascinated and amazed by this smallest creature in the bird kingdom. The illustrous hummingbird.
In September 2017, I made a short photoshoot of one of these 'hummers'. 'Anna's Hummingbird'.

A happy encounter right in the middle of bustling San Fransisco. Not a place one intuitively picks as a hummingbird type-habitat. Actually, for once it is the people that have drawn this particular 'hummer' fellow into town. Not the people themselves but their lush gardens with great varieties of exotic blossoming trees, flowering bushes and plants. Well chosen, aiming to keep their gardens in bloom the full year around, 'Anna', thus, enjoys a guaranteed continuous source of nectar (and flower-drawn insects!). A swift and short wing-beat away, just around every corner.

Anna's Kolibri



Het gezegde hoe kleiner hoe fijner gaat met recht op voor de benjamin van onze rijke vogelwereld. Kleurrijk, fascinerend, en verbazingwekkend, dat is de kolibri.
In september 2017 heb ik een kleine fotoserie geschoten van één van deze 'hummers' (hun paradoxale bijnaam in de VS). Van de 'Anna's Kolibri'.
Geschoten midden in bruisend San Fransisco. Niet bepaald een locatie waar je intuitief kolibries in het wild verwacht. Toch is het de mens die deze hummer de stad zeer algemeen heeft doen bevolken.
Niet de mensen zelf, maar hun fraaie tuinen met een rijke variatie aan exotische bloeiende bomen, heesters en planten. Met zorg gekozen soorten die de tuin vaak het gehele jaar bloeiend houden. 'Anna' vindt daarin dus een gegarandeerde continue bron van nectar (en van eveneens door de bloei aangetrokken insecten). Zij hoeven daar dus niet al te veel meters voor te vliegen.

Anna's hummingbird (Calypte anna)
A medium-sized hummingbird native and common on the west coast of North America, named after Anne Debelle, Princesse d'Essling, Duchess of Rivoli (1802 - 1887), Duchess of Rivoli.

Distribution map: Breeding and wintering range (blue), Wintering range (green).
Source: Wikipedia.
Anna's kolibri
Een middelgrote kolibri die algemeen vookomt in een zone langs de west kust van Noord Amerika. Genaamd naar Anne Debelle, Princesse d'Essling, Duchess of Rivoli (1802 - 1887). Kaart verspreidingsgebied:

Broedgebied en overwinteringsgebied (blauw), overwinteringsgebied (groen). Bron: Wikipedia.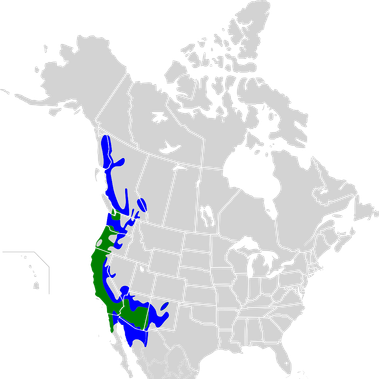 Flashing colours

Hummer 'Anna' is not as exoticly full-colour dressed as some of its Southern more (sub)tropical 'hummer' relatives.
Sitting still it may well go unnoticed.
Its dominant but modest green plumage blending away in mimicry with vegetation. In the shade it tends to appear even completely colourless, toning just pale greyish.

Direct sunlight, however, sets its feathers ablaze in stunning colours. Radiant green, lila-red and purple flash up as (colour) feathers reflect and refract sunlight under certain 'right' incident angles. These shiny parts, surprisingly, dim instantly to dull and pale greyish again when feathers are turned even just slightly out of 'right' angle.
Anna's September colours may not have been as rich and beautiful as in the full spring&summer breeding season. Nonetheless a joy and miracle to watch (and shoot) 'Anna' at close range.

Kleurenspel

Onder de kolibries heeft hummer 'Anna' beslist niet het meest exotische en bonte jasje. Daarin doet zij ruimschoots onder voor vele van haar meer (sub)tropische familieleden verder naar het zuiden. Met hun overwegend groene kleur ziet men ze tussen het bladergroen makkelijk over het hoofd. In de schaduw ogen zij in tinten grijs nog minder opvallend.
Maar direct in de zon lichten hun veren glanzend kleurend op. Helder groen, lilarood en paars. Felle weerspiegelde kleuren. Daar waar het zonlicht precies onder de 'juiste' hoeken op hun (kleur)veren valt. Veren die even verrassend flets en grauw kunnen ogen als de zonlicht inval-/reflectiehoek zelfs maar een fractie verandert.
Anna's september kleuren zijn natuurlijk ook niet meer zo diep en fraai als in het voorjaar/zomer broedseizoen. Desondanks was het een boeiend avontuur om 'Anna' van nabij te kunnen bewonderen (en fotograferen).

Pruning feathers

Shooting pictures of hummers is a demanding adventure. For one, their miniature size gets the longer lenses out. For my (first ever) hummer shoot, a borrowed 100-400 mm, beefed up by 1.4x converter. For another, they are swift... very swift flyers. With stunning 3D directional instant manouvring mastery.

To the photographer's rescue comes its routine of feeding on flower's nectar. Humming 'stilled' at up to a stunning 80 wing beats per second, for just a couple of seconds, it can grant you the perfect 'in-flight' close-up (handheld) snap-shot. Provided one aims & shoots faster than hummer flower-feeds.
A helping solution can be the popular nectar feeders. For obvious reasons dismissed as an off-limit cheat for my intended 'nature-only' photography.
I took advantage of an other slow-mo routine of Mr. and Mrs. 'Anna'.
Pruning feathers with, I presume, a soothing nectar-filled stomach. Pruning extensively on what turned out to be one of its favourite resting twigs. In blissful close range of the balcony of our guest house.
Attempts for shooting more elaborate humming-in-flight photos will have to wait until a next time/visit to Anna's sunny California. I'll be back.......!

Gepoetste veren

Kolibries fotograferen is een uitdagend avontuur. In de eerste plaats zijn, door hun miniatuur grootte, lange lenzen vereist. Voor mijn (allereerste) kolibri fotoserie, een geleende 100-400 mm, met 1.4x (converter) extra vergroting. In de tweede plaats vliegen zij uiterst snel. Verbazingwekkend behendig in een flits manoevrerend in elk (3D)-denkbare richting.
De routine van zich al vliegend voeden met bloemnectar, biedt de fotograaf enig soelaas en kans. Stil hangend voor een luttele paar seconden met een verbluffende vleugelslag tot 80 per seconde. Dat kan net genoeg zijn voor zo'n indrukwekkende 'in-vlucht' foto. Tenminste als je (handmatige) camera swing even flitsend snel is.
Natuurlijk kunnen de populaire nectar voedingbakjes een (onnatuurlijke) helpende hand bieden. Maar niet voor mijn gewenste puur-natuur fotografie.
Mijn fotoserie slaagde dankzij een andere regelmatige vogel routine. Veren poetsen. Vermoedelijk ook geholpen door een even genoeg gevulde kolibri maag. Zorgvuldig rustend poetsend op één van de favoriete rust-takjes. Gelukkig op korte afstand pal naast het balkon van onze (gast)woning.

Pogingen om meer geavanceerde kolibri-in-vlucht fotos te maken laat ik tot een volgend bezoek aan zonnig 'Anna's Californië'. Om met die andere Californië-'A' te spreken, I'll be back.......!